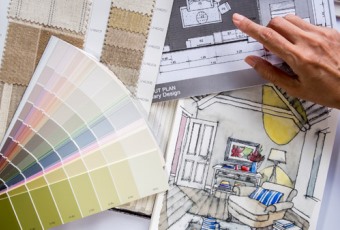 When you decide to renovate your beloved home and stay in it for years to come, making the right colour choices is an essential ingredient to your overall design. Paint, wallpaper, and wall textures along with most interior design finishes can last 10 to 15 years or longer before they need to be refreshed, so why not carefully plan the home colour scheme you will love every day.
The colour choices you make in a long-term dwelling will likely be much different than a time when you decide to sell. There are trendy colour schemes and classic colour schemes to select from based on your short- and long-terms goals. Making a choice to love the home you have and make it wonderful to meet your unique needs can be a rewarding experience.
Renovating for the Long Term
Both trendy and classic colour schemes are attractive to homeowners. If you've chosen to stay in your home, classic colour schemes are often the best choice unless you have a generous budget and the desire to renovate every few years. Classic themes tend to outlive modern trends that come and go. While suppliers encourage you to try the latest finishes, new products, and intriguing colours on your surfaces, these trendy designs may simply be out of style within 2-3 years. Not only that, replacing them can be a costly endeavor.
Checklist for Selecting Colours and Materials
When you are ready to select the right colour schemes for the surfaces and materials in your new home or remodel, review a checklist to learn more. This checklist may go a long way to keep you from making a costly mistake that you have to live with for years to come, and the list is very simple.
Get Inspired. Build your colour scheme around a piece of artwork, a photograph, or a painting you admire and wish to use in your renovation.
Trust Your Intuition. Rely on colours you have loved in the past or that you love today. Are there specific colours in your closet that you connect with? Don't worry about what others think; it is you and your family that counts (unless you decide to sell).
Consider Every Element of Your Home. Colours are present in walls, floors, cabinetry, tilework, furnishings, and more. While your colour scheme need not be exactly the same for every element and every room, strive for cohesion among them.
Make It Seasonal. You may desire a colour scheme that fits the seasons or a particular season you are fond of. Interchangeable seasonal accents like rugs and cushions are a desirable option if you enjoy change.
Express Yourself. Since you are not selling anytime soon, express yourself. Your home is a wonderful place for freedom of expression. You can do so with wallpapers, textures, patterns, tile or stone, paint, and many other materials.
Get To Know Your Colours. Get online and look up a basic colour wheel to see all of the original colours and help you narrow down the field. Select 5-6 shades of colours you wish to use throughout your home or perform a process of elimination if necessary.
Contrast or Harmony. Decide if you want colours that directly contrast each other (opposites known as complementary colours on the colour wheel) or harmony in colours (right next to each other on the colour wheel). Do you desire brights or pastels, neutrals or multicolours?
Try a Few Colour Samples First. Colours often appear different on a swatch than as paint on an interior or exterior surface. Try a few paint samples from your DIY shop on a wall next to each other and see how they look side by side. Place your desired home accessories near the painted patches and find your best match. These simple actions will give you a better understanding of what your finished project will look like before you paint.
Call on a Team of Professionals
Whether you find beauty in simple or exotic colour palettes, where and how you use colours and furnishings play a large role in the end result. If you don't have the confidence to plan your colour schemes for the long-term, count on some help from your local homebuilding company in the TRNC.
Cyprus Homebuilders specializes in new builds, renovation, design, and total customer satisfaction. The team is immersed daily in homeowners' design dilemmas and requirements. If you need advice, call on experts in the field to guide you for beautiful trendy or classic colour schemes to enhance your living spaces and satisfy your daily living style for years to come. Continue to enjoy your home as if it were brand new, using design options that please you most.