Families are taking their indoor rooms to the outdoors to create homey seating areas using attractive rich textures, bright accessories and lighting, and lush vegetation.
As more and more people seek the comforts of home in living, dining, and even the workplace, some trending outdoor patio concepts are filling the gap for those who love family gatherings, entertaining, or just hanging out at home to relax.
Let's take a look at what's trendy nowadays!
Homey Seating Areas
Patio covers and weather-resistant furniture and fabrics have come a long way. When you pair solid structures with high-end outdoor materials made to withstand the elements, you create an outdoor atmosphere that is simple to keep clean and versatile for year-around use. Select proven furniture fabrics that don't show debris and can be wiped down. New furniture materials and styles with reversible patterns offer some flexibility for seasonal beauty and quick preparation for short-notice guests. There are many synthetic furniture material options in lieu of redwood, cedar, and wicker that are made to last including plastic, acrylic, aluminum, stainless steel, and resin. Duplicate your seating areas including attractive wood pergolas across the backyard to give family members and friends inviting options for diverse activities. Create homey seating areas with style.
Add Brick and Stone Textures for Depth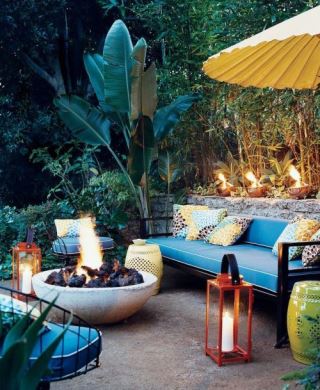 There's something about brick and stone that give every back yard depth and abundance. These materials add texture and make it easy to divide your spaces with desirable areas and pathways. These "hardscapes" also help homeowners manage lawn or garden spaces that may create added work during certain months of the year. A pathway made of brick or stone adds rhythm and aesthetic artful quality to all who view it or enjoy its functionality. These materials offer year-around durability and easy maintenance. Consider brick or stone when you design your vertical and horizontal spaces: patios, pathways, walk-up wet bars, dividing walls, seating area foundations, or outdoor pergolas, to name a few. Seek depth and abundance for your outdoor patio.
Add Accessories and Illumination to Complement Your Spaces
Neutral, functional furniture and structures are recommended in outdoor patio designs so that you have year-around flexibility in design accessories. Achieve color and interest through modern, durable accessories: pillows, cushions, umbrellas, garden décor, birdbaths, flowerpots, and feeders. Rely on specialty outdoor lighting including LED bulbs, solar lighting, and flames to brighten and add ambience to your spaces by night: torches, fire pits, candles, string lighting, spotlights, landscape lighting, and vintage hanging lights, to name a few. Seek energy efficient LED lighting and don't forget the remote control options. Lighting and be accomplished manually or automatically based on a natural dawn-to-dusk timeframe or by timer. Be sure to invest in durable, made-for-the-outdoors accessories and illumination to complement your spaces.
Complete Your Look with Lush Vegetation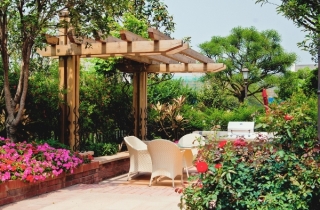 A home patio is not complete without some form of lush vegetation. Look for sustainable, low-maintenance plants and foliage to complete your patio look. Low growing plants and ground covers that don't get too large are often best and cut down on regular maintenance.
Whether you decide on ground planting or designer pottery for your vegetation, keep in mind that greenery adds a richness that is hard to replace. Not only that, greenery is known to clean the air and provide a more natural and beautiful space to complement your homey seating areas. For flexibility, potted vegetation gives aesthetic qualities and makes a redesign so easy.
Mobility is popular online and on the patio, as families seek modular designs that can be transformed in a day. When you produce home seating areas that are embellished with brick and stone, appealing accessories and lighting, along with lush and beautiful vegetation, you create outdoor spaces that replicate indoor living. Call on local experts at Cyprus Homebuilders to help plan your next indoor and outdoor spaces, and make your patio a part of your home.