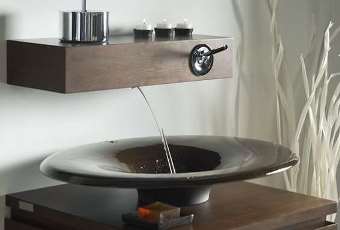 When you are undergoing a bathroom remodel, choosing bathroom fixtures can be a positive experience, having gained some knowledge about what to shop for. Bathroom fixtures generally include sinks, toilets, tubs, and faucets.
The best place to start is at a plumbing supply showroom where you can find out what's trending, browse tub styles, see beautiful faucets, and decide on the materials and finishes that suit your space. Consider these options when browsing in the store or online for the fixtures you will need:
Sinks, Toilets, and Tubs
Keep in mind that sinks, toilets, and tubs all come with various manufacturing features and standards, and in multiple colors, shapes, styles, and sizes. Consider price, functionality, design, and space when you take a look at the multitude of options. Here's a good checklist:
Set a budget. Decide if you desire practical low-cost fixtures or high-end designer products for your space.
Get online and compare the features and specifications offered for each of these bathroom fixtures. Identify the features you love and can afford to narrow your list.
Consider the style of your existing home and whether the new fixtures fit within.
Measure the space where new fixtures will be installed and ensure compatibility.
Seek timeless designs and colors that will take you and your family into the next generation, or will be suitable for resale when you decide it's time for a change.
Ensure consistency between fixtures; if you select a designer sink, the tub and toilet should complement your selection in the same or similar colors and styles.
! The options for sinks, toilets, and tubs in today's market are amazingly diverse. Do your homework, visit some showrooms, and take a look at new real estate to get more design ideas !
Faucets, Bath, and Shower Trim
The range in faucet styles, finishes, and prices is exciting and somewhat overwhelming. If you have a favorite brand, Turkish or European, this can narrow your playing field, but new technology has provided a whole new shopping experience for faucets and bath/shower trim.
Select from at least five different finishes including chrome, burnished bronze, satin nickel, and more. Prices vary between finishes.
Take a look at dozens of options in water pressure, fixture size, mounting locations, hand-held sprayers, rain showerheads, wet room side sprayers, and more.
Select faucets and trim packages in the same style, so there is consistency in the room.
Look for the litres-per-minute specification to get the desired water pressure.
Consider water-saving measures, often built-in to the latest models of fixtures.
If you are not removing valves, make sure the new fixtures are compatible with your old plumbing.
A bathroom-remodeling project can be a lot of fun. Even when you hire a tiling expert in North Cyprus, you can play an active role in selecting the bathroom fixtures that suit your home, your lifestyle, and your personal habits. When you rely on experts to guide your project, you will select from a wide range of prices and products for the perfect remodel experience.