When you live in the Mediterranean, painting your house can be a daunting task. It may help to gain a good understanding about paint problems that can develop, the properties of its certain ingredients, and the proper methods for painting.
With a little research and proper planning, your house painting experience can be enjoyable and your paint job can last a long time, even in a challenging climate like Cypriot.
Paint Problems
If you live in North Cyprus, you already know that paint peeling, flaking, cracking, and mildew are common occurrences. These issues are usually a result of paint that is exposed to humidity and moisture over time. Painting over plaster or previous paint requires a unique process unlike that of painting wood structures in drier climates. Another common problem that can arise in humid climates is mildew. Mildew is a thin coating of fungus that grows on damp surfaces, and it cannot be painted over.
Paint Ingredients
With a little bit of information about certain paint ingredients, you may be able to purchase the right paint for the climate you live in. The fact is, some paints are better than others due to key ingredients, and these make all the difference in a long-lasting paint job, especially where there is humidity and strong sun.
Zinc oxide is often found in paints, and it is known to resist mildew to some degree. As well, acrylic latex is known to resist mildew. Search for higher-quality paints that contain more concentrated solids. They dry faster, thus eliminating some of the paint problems present in damp climates. Consider sun-resistant water based paints, silicone paints, and acrylic paints for better results. Check for high-end paint binders, solvents, and diluents.
How to Paint a House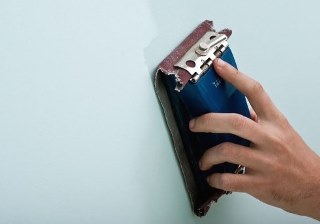 By following a simple process or relying on local paint experts in North Cyprus, your paint job will last longer and look better. Begin with preparation, possibly the most important step in painting a house:
1. Before actual painting, you should make sure the surfaces are clean, smooth, dry, and ready to be painted on:
If you are painting a new house, the walls have to be cleaned of any dust and excessive plaster.
If you are painting a house, which has already got a coating of old paint, you should first repair the cracks and flaking areas, remove excessive plaster from repairs using sand paper where necessary, and wipe dust off the surfaces.
Any mildew should be is cleaned off and taken care of with special chemicals, which can be purchased at any local DIY market.
Some water should be sprinkled on surfaces to slightly dampen them in preparation for a primer.
2. Depending on the location of the house – in the mountains, in the valley, or by the seaside – and the wall surfaces (whether they are concrete, lime, or old paint), select an appropriate primer. This is an important step in the process since it will define how well the paint adheres to the walls.
3. Once the primer is applied, choose the proper paint. Generally, in North Cyprus, you can find three most commonly used types: water-based, silicone, and acrylic paints.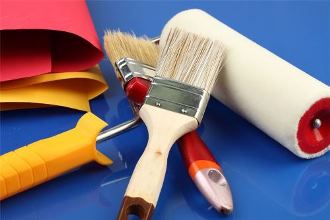 DIY markets offer a large variety of these paints through different brands with varying characteristics. Some common brands used in North Cyprus include Marshall, Trimetal, Filli Boya, Dufa, Jotun, and Kale. The paint selected will depend on the homeowner's particular choice for quality and price.
We recommend paint that is resistant to strong sun. Some paints last only a couple of years, while others are much more durable and look like new for 8-10 years.
When buying paint, don't forget to select a large roller for covering big parts of the walls, a medium-sized roller for smaller areas, and a brush to reach for tricky places and corners where rollers wouldn't work.
Let The Painting Begin!
While you are painting your property, you can use tape to protect window and door frames. Also, it would be wise to cover your terrace tiles and plants with plastic covers that can be bought at any DIY market (often they are sold together with paint rolls, brushes, and a tray as a kit). Otherwise, old sheets and tablecloths will do just fine. And don't forget to wash your rollers and brushes right after you have finished painting!
! When you decide to paint your home, keep in mind that no matter how expensive and durable the paint is, if the house is not water- and damp-proof or if the house has rising damp issues, the paint will not last long and the house will quickly lose its fresh appeal !
Whether you decide to proceed with a paint job on your own, or you wish to contact our professionals at Cyprus Homebuilders, a little bit of information can go a long way toward your durable, long-lasting paint job in a place like North Cyprus.