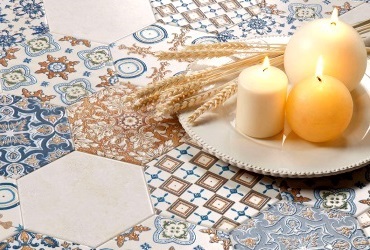 It is an exciting time for designing with tile and tile alternatives! Flooring, kitchens and baths are taking on a timeless new look with tile and tile-like materials that appear as everything but tile. Some of the most popular tile options are imitations of wood, natural stone, and ethnic mosaic.
There are several new trends that are expected to last in decorative tile design:
Various wood looks, like animal print, are staying around as timeless favorites; expect to see a variety of dimensions, old and new;
Finishes to accommodate indoor-outdoor living spaces and withstand the elements are in demand;
Early brick-style options as well as cement and metals are making their way into industrial style kitchens for the long term;
Stone, particularly Carrara marble and marble imitations in other neutral colours, is proving to be an enduring material that never retires;
Large-slab and unique decorative wall tiles are a continually clean and popular choice for every living space.
While tile and tile products can literally be used in every style of building, home, or room, trends show its popularity in flooring, kitchens, and baths.
Tile Flooring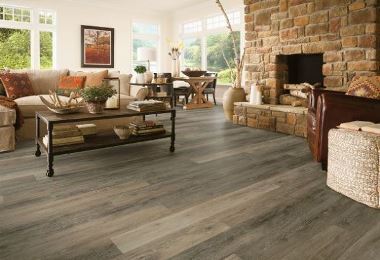 Wood-grain floor tile is nothing new, but it continues to be popular for every surface, especially wall-to-wall floors. Designers love it. People love it. Wood grains, patterns, and materials show diversity, and sizes vary from early-style narrow slabs to modern long and wide slabs (up to 150 cm), depending on your application. Weathered, whitewashed, traditional, or contemporary wood grains - all win.
For years, tile has proven to be a most amazing and durable material for home and office flooring, but there are a few imitations on the market when you're seeking a travertine, marble, or wood look. Some tile alternatives including vinyl or laminate with benefits in lighter weight, less cost, DIY simplicity, and a warmer surface.
Kitchen Tile Options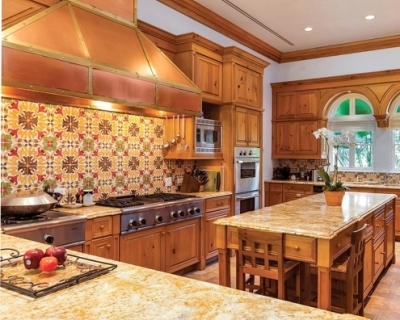 Modern mosaic tile in ethnic finishes is showing promise for kitchens across the globe. While clean lines are in, they leave room for trending mosaics with a cultural flair, from Scandinavian to Turkish and Spanish. Distressed and polished finishes are equally popular, and there is no limit to where mosaic tiles can be placed. Rustic brick is another great option for industrial style kitchens, and complements the weathered barn wood look. Consider backsplashes, countertops, and bar surfaces, to name a few places for exotic tile.
Along with new kitchen tile designs, open floor plans that transition from indoors to outdoors are attracting homeowners, and that requires durable, sustainable tile products that are easy to maintain. Tile and cement are taking the lead, but there are a number of similar products on the market that claim sophisticated outdoor technology to meet this need.
Bathroom Tile Trends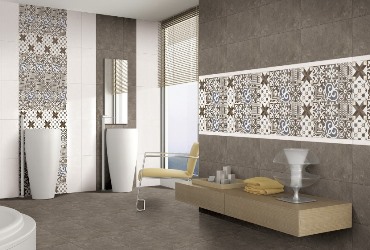 Tile may be timeless, but colours, shapes, and sizes tend to change, and bathrooms are often the first project where this is reflected. With the comeback of brick, you'll see terra cotta and similar colours find their way into your smaller spaces as well as fireplace surrounds, patio surfaces, and industrial style rooms. Along with brick, metals using varying finishes are another industrial-style winner to achieve a particular look. The colour of "gun metal" is amazingly popular as are trending titanium and platinum metals. Blues are expected to be pleasing this year.
Bathrooms are great spaces for wall-to-wall tile, and there is no limit to the textures, shapes, and materials you can use to seal your bathroom spaces. People are getting brave with geometrics and designs in nature such as trees, leaves, and waterfalls. Larger tile slabs tend to be the current sought-after design choice (typically 20x60 cm, 30x60 cm, or 60x60 cm; and up to 45x90 cm).
Let our tiling specialists be your guide for new flooring, kitchen, and bath designs of the decade. The team has proven design and construction skills to modernize your space and at the same time prepare your surfaces and structures to withstand the elements in North Cyprus. It may be time to upgrade your home for complete enjoyment and also increase the value of your property.