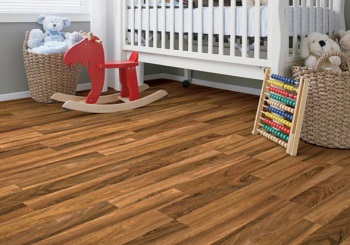 If you love the look of wood flooring arranged in a decorative mosaic pattern, you love parquet. Originally, parquet flooring was made from various blocks of wood species and arranged into unique patterns.
It became a popular alternative to marble in the late 17th century because it didn't trap moisture in the same way marble did. Solid parquet wood flooring was known for its durability as well.
Today, laminate parquet flooring is an amazing substitute, made from imitation hardwood and applied to a firm substrate. It is usually coated for protection, with the ability to be repaired or replaced. If properly selected and installed in the right locations, this flooring holds many of the same properties as wood parquet, at a much lower cost. There are plenty of companies in North Cyprus that specialise in importing and installing laminate flooring, so with a few tips from Cyprus Homebuilders you should be able to find the flooring of your dreams.
How to Select
If you live in hot and damp Mediterranean country, you must select laminate parquet flooring with caution. While this flooring is known for its warm, cozy appearance and feel, in these climates it is best used in rooms that are not exposed to excessive moisture: bedrooms, hallways, and some family rooms and living rooms. Even though laminate parquet flooring is known for durability, placing this flooring in the wrong location voids this fact.
What to Look For
When in the process of selecting laminate parquet flooring, look for durable, 32-or-higher class flooring if possible, and keep in mind that floor heating is not an option for this material. In terms of style, there are no limits. Laminate parquet flooring comes in a variety of wood colours, several inviting patterns, and the wood look of choice. Select from light or dark browns, reds, and grays in oak, cherry, hickory, maple, pine, and more. Popular patterns include herringbone, triangles, squares, and other geometric shapes.
How to Install
Installing laminate parquet flooring can be done in about six easy steps:
1. Start with an even, clean, and dry subfloor. It may be necessary to lay a sound reducing foam underlayment.
2. The first piece to be placed must be straight, as this is the foundation for the entire room.
3. Shims can help with gaps between floor and wall.
4. Use the tongue and groove process to place the pieces together.
5. Skirting boards along the walls may be installed for a more finished look.
6. For a do-it-yourself project, there are a number of excellent videos on the Internet that explain variations in the process.
Pros and Cons of Laminate Parquet Flooring
Laminate flooring in general comes with a range of pros and cons to consider for your living spaces:
Pros of Laminate Parquet

Cons of Laminate Parquet

Can usually be installed as "floating," meaning no glue or nails to the subfloor are required;
Easy to clean;
Fewer gaps;
Get the look you want;
Great for bedrooms and hallways;
Inexpensive;
Installs over most existing floors;
Replaceable planks;
Resilient;
Simple to install.

Misplaced fireplace debris can damage this type of flooring;
Spilled liquid, if not quickly managed, can cause expansion in the boards at the joints;
Laminates cannot be refinished if damaged, (but they can be replaced);
Not suitable for moisture collecting areas in the house, like kitchens or baths;
Not suitable for outdoors in hot and damp climates;
Gets dull over a long period of time, just like wood, and at some point may need to be replaced.
Laminate flooring in North Cyprus
When you are ready to invest in beautiful flooring that will become a statement for your home for years to come, rely on certified expert consultants in North Cyprus to help you decide. Climate, durability, grade in materials, installation, home interiors, and warmth are important factors to consider in your laminate parquet flooring purchase.